I went to Setouchi triennale 2016 at 11/4,5.
This event was held each 3 years since 2010 at Kagawa prefecture.
I haven't known this event until this year.
I was so surprised that this event was so popular!!
Almost hotels and accommodations became full soon.
And there were various people like young, old and foriner.
I spent so amazing time!!
In this terms, many exhibition were held at more than 10 islands!
Many of them were special exhibition!
It means we could see only this terms!
I was really puzzling which island I should go.... 
7:00 Takamatsu port
I got Takamatsu port at 7:00 to got first ship to go to Teshima!
In spite of 7:00,there were already long line.
And finally I couldn`t got on first ship... 
8:00 Teshima
After 1 hour cruise I got Teshima.(Welcome cat)
As soon as we got, many of us dashed!!
That`s because this island was large,so usually we used the bike or bus to go around!
They aimed to rental bicycle shop!!
Of course, I followed them.
And I could rental at most convenient shop it was located behind of port building! 
Fortunately, these bike was sold out immediately after my order.
It's cost was 1,000 yen / 4 hours and added 100 yen as spending hourly. 
And I rented electric bicycle.
It looks not cool?? 
I would like tell conclusion against my title at first that if you would like to go around by bicycle,electric bicycle is diffidently necessary!!
That's because there were lots of steep and long ups and downs.
8:45 First destination
Where do you think at my first destination?
 It was ATM!!
We have to be careful that this island has only 2 ATMs and they were closed at weekend!!
Furthermore in island I could hardly find the places to be able use electric money or card...
So we have to withdrawal in advance!
From port it was only 5min by bike.
After withdrawing, I restarted!!
Good landscape were lasted.
I thought It was more suitable for bike than bus to go around!!
Old bending machine was nice!!
It looks like art as well!!
Sea was cool!
I found bread ship.
There were many people who had breakfast.
I was hungry,too.
But I was in hurry and passed there...
On the way, there were some useful signboard.
This indicated ways.
Toilet signbord.
Temporary restroom were installed some place! convenient!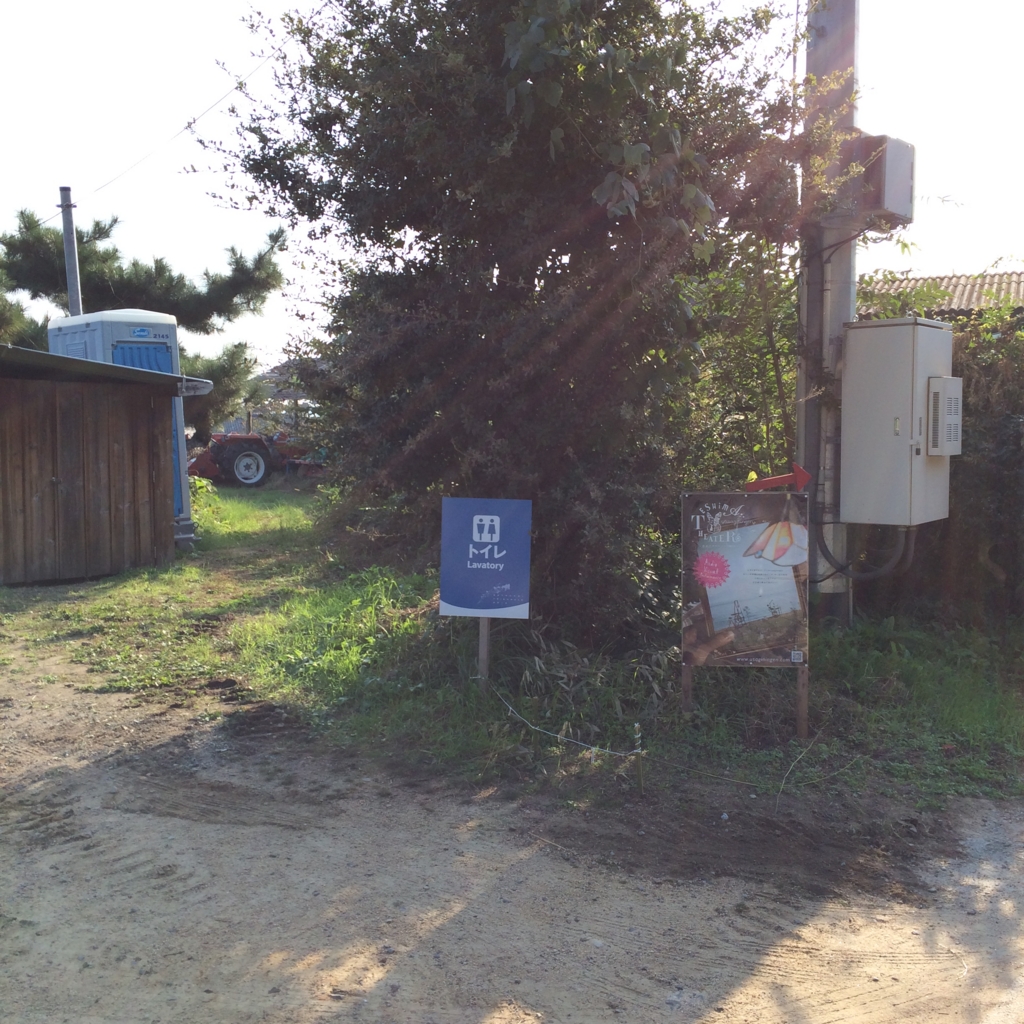 9:10 Teshima museum
Before the museum, cool landscape welcomed me!
I liked!
Thanks to early morning, there were few people!
I thought I could get this musium the earliest.
But then I couldn't enter immediately.
It means I needed to wait with numbered ticket until next entrance at 9:45!!
Up to time, I walked around terraced rice farm.
It was so beautiful.
Actually this farm was not art which made by artist.
It was made by residence!
When I entered, I was so surprised and glad I could use "SUICA" for entrance!
Unfortunately, Other place I went couldn't use it..!
Before entering, we walked around this area following route distraction.
Some took a break on the grass under good temperature.
Good choice!
Teshima museum was inside of this building.
We didn't allow taking pictures at inside.
So I need to tell this museum splendor by my words.
But actuallyit was so difficult to tell.
At inside,there was so mysterious space...
When I entered,I found it was as if being in another world...
When I left museum at 10:30,many people were waiting!!
And then someone were said the numbered ticket is for 11:45.
It means to have to wait 90 min for admission!
Furthermore waiting people were increasing gradually!  
I thoght it was perfect to come here at first!! 
Finally
The reason I selected Teshima for first island was Teshima museum.
Actually this museum is operated almost every year expect for this event.
It means we could go there anytime!!
And this island had other great arts!
So I will introduce next article!